Top 5 Picture Books for Children of 2022
•
Posted on July 22 2022
As we all know: in recent years, picture books have gradually become the main reading material chosen by parents for their children. The rich colors, exaggerated and cute images, and warm and touching plots in picture books are accepted and loved by most children. At the same time, reading picture books is a warm and very beneficial parent-child activity for children.
But it's not easy, and many parents struggle with it. How do we choose the best picture books for our children? Let us introduce it to you next.
Table of Contents:
The best picture books for children of 2022
How to choose picture books for children
Reading is important
The best picture books for children of 2022
1. Pandemic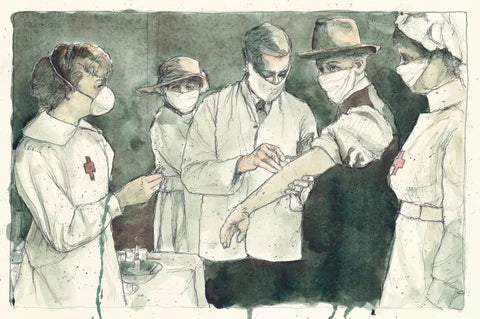 Story Overview:
Pandemic is a true story of community support in the midst of the " Spanish influenza". When faced with a disaster, people are frightened and distressed. But even with all these negative emotions, people are still relentlessly engaged in the "battle" against the virus, generous in their kindness and help: children whose families were not infected got on their bicycles or ponies and rode through the empty streets to help. Some fed the puppies, others fed the chicks and collected the eggs, others weeded the garden and picked the fruits and vegetables... By 1920 the global epidemic was over and a huge celebration party was held. Isolation and kindness and mutual aid during the pandemic eventually won humanity over.
Reason for Recommendation:
This is the fourth year of the COVID-19 and the world is suffering from the virus, as Pandemic portrays it. It shows us how powerful the virus is: three years after the outbreak, the virus is still highly transmissible; and after a century, we still rely mainly on masks and isolation to deal with this contagious virus. We are informed the kindness and mutual help that humanity has never lacked, and children are shown how they can contribute in the midst of an epidemic virus. In the history of mankind, no epidemic has ever truly crushed humanity, and I believe this one will be no exception.
2. Grandpa Becomes a Ghost
Story Overview:
The unexpected death of his grandfather breaks the little boy's heart. He cannot understand death and cannot imagine his grandfather turning into an angel or being buried in the earth. One night, Grandpa returns as a ghost. "If a man forgets to do something while he is alive, he very much becomes a ghost after he dies." Therefore, the little boy went to his grandfather's house with him to look for it, and went around the town, but never remembered what the thing he forgot to do was...
Reason for Recommendation:
Picture books can help children understand life, but life is not always only good and pleasant. Difficulties, worries, illnesses, and even death are also life lessons that children must face. If you don't know how to explain the heavy topic of "death" to your child, reading Grandpa Becomes a Ghost with your child may give you some inspiration to let your child experience the cycle of life and the true meaning of love.
3. NO, David!
Story Overview:
This is the story of the daily life of a young boy who is innocent and can make a mess of his home. David writes on the walls, uses the bathroom as a "battlefield", wears an iron skillet on his head and clanks it around, and so on, in return for one "NO, David! ". At the end of the story, there is a heartwarming picture of David being held by his mother.
Reason for Recommendation:
It is the nature of children to be naughty, just like David, they will be curious and throw tantrums, and similar life experiences and troubles can easily resonate with children. In NO, David! it allows children to throw tantrums while teaching them how to handle their own wistful emotions and is worth reading. As parents, it shows us the need to accept our children's emotions, tell them what they can do, and guide them to do the right thing. Having a harmonious parent-child relationship is enviable. As a common form of showing family harmony, mommy and me clothing is loved by more and more young parents.
4. When Sophie Thinks She Can't...
Story Overview:
This is the third picture book produced by author Molly Bang. In this book, Sophie, our main character, encounters a new problem... When Sophie can't put together a jigsaw puzzle or solve a math problem, she begins to doubt herself. Her "I can't do it" attitude prevents her from actively exploring. Fortunately, with the help of her teacher, Sophie was able to move from "I can't..." to "I can! to "I can!" and successfully found her confidence and helped her dad solve the problem.
Reason for Recommendation:
If you're still struggling with your child's lack of confidence, help your child build confidence by reading When Sophie Thinks She Can't... to help your child build confidence. It teaches children that intelligence is not natural. If we open our brains and think positively, our brains will become stronger too. It encourages the child: You haven't made it yet, but - almost! In our daily lives we hesitate, as Sophie does, between "I can or I can't" and remembering "Soon! It's almost time!" And the magic gives us the power.
5. A Year in Brambly Hedge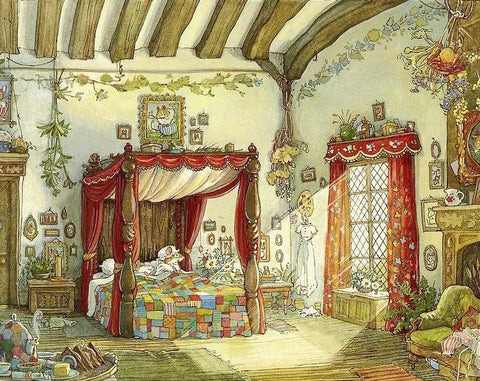 Story Overview:
This is a simulation of the real world. The main characters are a group of mice who live almost the same life as we do, except for their size and appearance, which is different from that of humans. In this book, the author depicts the warm and romantic daily lives of the mice as they prepare for birthday parties, plan weddings, and more. It is a purely ideal world: wild rosebuds bloom everywhere, bees and butterflies flutter in the fields. The characters live simple lives. In this world there is no existential oppression, no competition, life is rich yet simple and full of joy.
Reason for Recommendation:
This is a set of books for children, simple and beautiful. The pictures of A Year in Brambly Hedge are exquisite, full of rich idyllic atmosphere, and the storyline is closely related to daily life. In this world, let all competition, desires and worries are abandoned outside, leaving only warmth, friendliness and simplicity, just like a garden of Eden. 
How to choose picture books for children
1. The appearance of the reading material:
Whether the child can easily grasp: For young children, children's hand muscles are not fully developed, so they are not quite able to grasp. But through the observation of both eyes, they also want to learn the posture of adults holding books, want to imitate, so parents can choose from the observation of the book is good for children to grasp.
Whether it is easy for children to flip through: At this time, children's fingers are not quite able to perform too delicate movements, and often find that the paper tears, in fact, they do not know how to control the force, so the hard pages will be better for children to flip through.
Whether easy to clean: for teething babies, drooling is common, easy to get dirty books, at this time, how to clean, is the key to extend the shelf life of books, such as: waterproof plastic books.
Safety: from the safety aspect, the four corners of the books are best rounded, more will not hurt the skin of small children.
2. Book content.
Rich picture content: the narrative of the pictures should be good, even if the text is taken away can be read. However, there are some stories that can be quite baffling just by looking at the pictures, and their imagination is bizarre and jumpy in focus, but they can often stimulate children's creativity. The pictures contain a wealth of detail and develop children's observation and exploration skills.
With an educational nature: they can help children make sense of life, and some picture books that feature children's life experiences can deepen children's identification with the reading material. When parents read the content of the story, they can also take the opportunity to make their children's life experiences echo the main character and strengthen the opportunity to educate.
Story spindle simple: can let the child easily understand, choose the present, simple, clear story structure, after all, the current stage of reading can not absorb much knowledge for the purpose, but to develop the child has the habit of reading.
3. Notes for parents selecting children's picture books for the first time.
Parents may be overwhelmed by the large number of books available. We can select children's picture books from the following tips.
Classic works: classic works must have its own reason, you can go to collect information before starting.
award-winning works: the pictures are professionally selected, parents can also start from this, it is less likely to make mistakes.
Choose with your child: bring your child to choose, read together, parents can observe the child's reaction to the book, and then decide whether to buy.
Reading is important
Reading is important. Reading is the desire for knowledge. Reading itself is the accumulation of knowledge and the improvement of one's quality.
A person's reading habit is developed in childhood. Before children can recognize written symbols, picture books that portray the world from a child's point of view are their "good companions". A good children's picture book is often an outstanding piece of work that can plant the seeds of beauty in a child's heart and gain the eyes to discover it.
A quality picture book is the best gift you can give your child. If you want to choose a gift for your child, in addition to books, children's toys, Wholesale kids Clothes are good gifts.
Night Sweats During...

Women are prone to night sweats in early pregnancy, which varies from person to person and may last up to a month after delivery before ending.Befo...

Read More

Feeding Your Baby w...

When you have a baby, a bottle is definitely indispensable. Whether it is mixed feeding, formula feeding, or breastfeeding bottle feeding, the heal...

Read More

Disposable nappy or...

Have you calculated how many diapers you need to raise a child? If you try to stop using diapers from the age of 2, you'll need about 4,000 diapers...

Read More